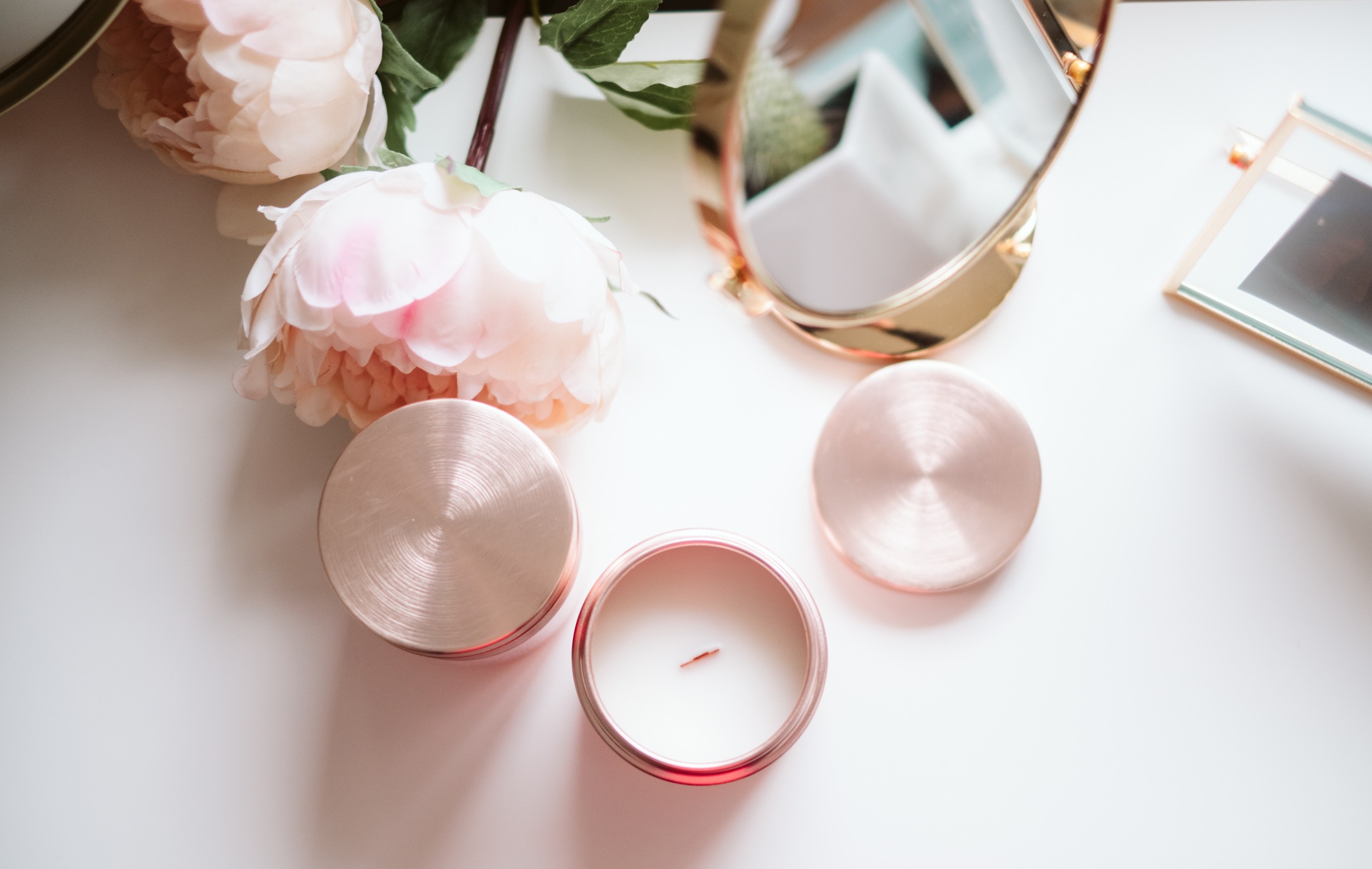 While signing up for The Zen Collection Box, you'll take a short scents personality quiz to elevate your experience, and we'll tailor your Zen candle based on your unique scent profile in each month's box.
Our delicious scents fall into four heavenly fragrant categories each blended to bring you ultimate levels of Zen.
So whether you're craving a spiced latte, pumpkin spice or dreaming of Christmas in July, we promise that there'll be something delectable to boost your mood in each month's box.
This mood-boosting feminine fragrance is subtly sweet with notes of powder and fresh-cut flowers, said to bring pleasant dreams.
Scents with light floral notes such as jasmine, magnolia, white iris and neroli flower are the perfect complement to relaxed personalities and positive vibes, if you're lighthearted and love all things natural, earthy, and wild.
These scents conjure up spring blooms and freshly cut bouquets, which are so uplifting as they promote such a romantic and feel-good association and are said to bring pleasant dreams.
Floral notes have long been considered 'clean' aromas, promoting a cleansing of the mind and relieving stress.
Some of our best-selling florals are:
Rose Garden: Like a walk through an enchanted forest, a sophisticated combination of white roses with hints of lemon flower and woody undertones of patchouli and Canadian fir. The perfect candle to enjoy over dinner, a bath, or a glass of wine.
Rosé: Smells like a freshly cut bouquet of velvety red roses – sweet and spicy with fruity notes, and the silky soft aromas of pink peonies and honeyed neroli blended with woody undertones of oud. Fresh and perfect to set you in the mood.
Dark Rose: Divine in its rich but warm and sensual aroma of black roses combined with a soft powdery incense and balanced with the dry musky undertones of labdanum and patchouli.
Erotica: As the name implies, erotic and sensual smells of warm floral notes of hibiscus and rose water, blended with Persian ivy and undertones of white woods and spring musk.
Breathless: Reminiscent of a wooded flower field in the spring with creamy notes of sandalwood and rich ambers dancing playfully with zesty lemon, jasmine, and yellow dahlia petals.
Think of a bright day at the beach or that first smell fresh out of the laundry. Crisp with spicy notes and a robust fragrance, these candles will leave your space so fresh and so clean.
The fresh, uplifting scent of cotton, lemongrass, sage or bergamot is the perfect complement to bright personalities and an upbeat lifestyle.
These scents also promote a clean ambience around your home, leaving it smelling fresh long after the sun has set.
Think of a bright day at the beach or that first smell fresh out of the laundry. Crisp with spicy notes and a robust fragrance, these candle scents will leave your space feeling so fresh and so clean.
Some of our best-selling fresh scents are:
Warm & Fuzzy: Sexy warm vanilla, elevated and enraptured in woody cashmere and sweet amber and rounded out with slightly delectable notes of fruity citrus for a true warm and fuzzy feeling.
Refresh: Refreshing and rejuvenating notes of sweet coconut cream and pineapple combined with fresh green herbs and slightly nutty cardamom.
Spa Day Delight: Tangy Grapefruit, ginger, cardamom, pink pepper, cinnamon, and amber are balanced by cedar and vetiver for a sophisticated spa-day feel.
Over The Moon: Zesty and spicy like a warm drink on a chilly fall day. Blended with Madagascar clove and orange rind delightfully swirled together with fresh punchy ginger.
Renew: Calm and soothing notes of lavender and ylang-ylang, blended with woody undertones of cedarwood and vetiver. Perfect relaxing remedy after a long day.
Warm and sensual, these fragrances blended with foodie, spicy, herbal and amber notes that exude sex appeal and intimate vibes for a romantic night.
Our gourmand (foodie) notes also fall into this fragrance category, a perfect complement to feminine appeals and sweet personalities
These exotic fragrances mixed with herbal and amber notes exude sex appeal and intimate vibes for a romantic night.
Blended with juicy, ripe, sweet, or peppery notes such as clove, gardenia, cinnamon, musk, coconut or vanilla, these notes create a warm, sensual ambience when you need to unwind.
Some of our best-selling exotic scents are:
Delish: Decadent white cocoa and chocolate truffles swirled with sweet vanilla and cream. A truly delicious treat you don't want to miss.
Pick Me Up: Luscious and warm notes of coffee bean, whipped butter and creamy caramel. Perfect when you need a little pick me up to get through a busy day.
Shanti: Shanti means peace in Hebrew and is inspired by the sweet notes of raw honey, a nutty and sexy combination of creamy vanilla and shea butter with luxurious undertones of sandalwood.
Sensational- A decadent and euphoric note of warm vanilla, light honey, and creamy coconut with a touch of brown sugar for a sweetly subtle treat.
Our Limited edition fall & holiday faves
Merry & Bright: Spicy and tangy red apple swirled with pumpkin spice, pie crust, and vanilla bean. Reminiscent of a warm drink on a cold winter day.
Cognac: Delicious candy and classic martini notes with pecan, French toast, burnt praline, caramelized nougat, and spirited vodka blended in a soulful luxurious sensation.
Maple Chai: Sweet maple syrup, grated ginger, nutmeg, brown sugar and buttermilk notes bring nostalgia and memories of warm, creamy pastries and decadent treats.
Aromatic and citrus scents with depth define sophisticated and opulent natural fragrances leaving you with a warm and fuzzy feeling.
The perfect fragrance for the active, adventurous, and outdoorsy.
The clean, natural notes of woody scents are the overarching scents being attributed to notes of woods, roots and in some cases, leaves, think sandalwood, cedarwood, ambergris, patchouli, birch, and vetiver are the perfect complement to an energetic personality.
These notes are fresh yet earthy and aromatic natural fragrances leaving you with a warm and fuzzy feeling.
Woody scents are known to create a calming effect while boosting your upbeat positive emotions, helping you to feel grounded, deeply rooted and tapped into your inner strength.
Some of our best-selling woody scents are:
Unwind: Relaxing sage and lavender soothing the soul, and swirled with crisp juniper water for erotic, romantic feels, blended with woody undertones of Beachwood.
Hung Over: Sweet, juicy anjou pear, tangelo and iced raspberry muddled with cinnamon and crushed cloves, dances with brown sugar and cedarwood. Perfect relaxation remedy after a busy day or night out.
Wild Garden: Fresh juicy grapefruit and heady gardenia harmoniously blended and settled into soft sandalwood with a trace of sweet vanilla and white lily easing you into the night when you really need to tune out.